*** Ships today w/FREE official "I Ejected from TEEN MOVIE HELL" embroidered demerit badge! ***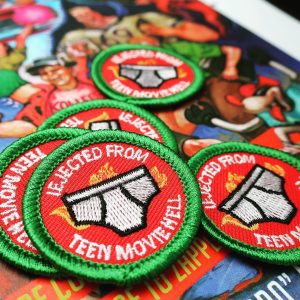 "I heartily hurrah this hormonal hagiography."—Patton Oswalt "This book is good for people who like teen movies. Teen movies are good for people who like gratuitous nudity. I
am
those people!"—Gilbert Gottfried,
USA Up All Night
"Awesome"—
Dangerous Minds
Here is your official Teen Movie Hell mixtape playlist. Crank it carefully—and use it extremely unwisely! New tracks added weekly.
"This R-Rated Rosetta Stone of celluloid abandon is a must-read for multiple generations of once-and-forever kids…a complete classic, written with all the enthusiasm of a Saturday night slamdance."—Allan Arkush, director of Rock 'n' Roll High School
"They all served a purpose, even the raunchy ones were fun sometimes. It was art. It was creativity—the good, the bad, the ugly, the raunchy."—E. G. Daily
• ISBN 978-1-935950-23-3
• Densely illustrated 360 pages of hundreds of film reviews, heavily opinionated commentary, and archival unseen illustrations.
• Features contributions by Eddie Deezen (Grease, Midnight Madness, Zapped!), Kat Ellinger (Diabolique), Wendy McClure (The Wilder Life), Katie Rife (The Onion AV Club), Samm Deighan (Diabolique), and Kier-La Janisse (House of Psychotic Women), plus guest reviews by Lisa Carver (Rollerderby), Heather Drain (Video Watchdog), Christina Ward (Feral House), Rachel McPadden, and Liz Mason (Quimby's).
• New from monstrous maestro Mike "McBeardo" McPadden, the author of HEAVY METAL MOVIES: Guitar Barbarians, Mutant Bimbos & Cult Zombies Amok in the 666 Most Ear- and Eye-Ripping Big-Scream Films Ever!

Born in the drive-in theater backseats of the 1970s, the demonic visions of Teen Movie Hell fueled the VCR, cable TV, and shopping mall multiplex booms of the 1980s before collapsing in the 1990s in a pixelated pile of cable dissipation and Internet indulgences. Between George Lucas's American Graffiti in 1973 and Richard Linklater's Dazed and Confused twenty years later, lust-driven laugh riots on the order of Animal House, Porky's, Fast Times at Ridgemont High, and Revenge of the Nerds boomed at the box office and conquered pop culture by celebrating adolescent misbehavior run amok
Puberty-powered comedy classics including Meatballs, Caddyshack, Valley Girl, and The Last American Virgin fused hormonal overloads with anti-authority abandon and below-the-belt slapstick to create a genre that also unleashed the anarchic, sex-mad likes of The Swinging Cheerleaders, H.O.T.S., Hardbodies, Private School, Joysticks, Spring Break, and Zapped!—as well as the mainstream variations Sixteen Candles, The Breakfast Club, Ferris Bueller's Day Off, and Pretty in Pink.
All-seeing author Mike "McBeardo" McPadden (Heavy Metal Movies) passes righteous judgment over the entire genre, one boobs-and-boner opus at a time. In more than 350 reviews and sidebars, Teen Movie Hell lays the crucible of coming-of-age comedies bare, from party-hearty farces such as The Pom-Pom Girls, Up the Creek, and Fraternity Vacation to the extreme insanity exploding all over King Frat, Screwballs, The Party Animal, and Surf II: The End of the Trilogy.
Tap the keg, tailor your toga, and belly flop hard into the exploitation inferno of bikinis beaches, locker rooms, summer camps, study halls, wayward teachers, cool camp counselors, wet-T-shirts, custom vans, sexy ESP, shower peepholes, and other overlooked penal code violations!
"Prepare to be transported back to a carefree era of flagrant boners, panty raids, shower snooping, binge drinking, and that first awkward backseat grope session. Is there any genre more disrespected and misunderstood than the teen sex comedy? Thank God for this book!"— Robin Bougie; Cinema Sewer
"McPadden's nostalgia-fueled masterpiece is a VHS-scented whirlwind of virgin angst and pizza parties. If only this book had existed in the actual '80s, the world wouldn't be the toilet it is today."— Zack Carlson and Bryan Connolly, co-authors of Destroy All Movies!!!: The Complete Guide to Punks on Film
"This book captures everything I loved about all of those sexy and scandalous teen flicks I snuck downstairs to watch when my parents thought I was sleeping. Sweetly nostalgic and playful, but also reflective and incredibly thoughtful, Teen Movie Hell is the book the world may need right now."—Amanda Reyes, author of Are You in the House Alone? A TV-Movie Compendium, 1964-1999
Here is your official Teen Movie Hell mixtape playlist. Crank it carefully—and use it extremely unwisely! New tracks added weekly.