MISERY OBSCURA: The Photography of Eerie Von (1981–2009), by Eerie Von
MISERY OBSCURA: The Photography of Eerie Von (1981–2009), by Eerie Von
Out of stock
"Front row center for some of the most awesomely, brutally theatrical moments in punk rock history"—Pitchfork
Out of stock
Add to Wishlist
Add to Compare
MISERY OBSCURA haunts again Spring 2024
Sign up and we'll warn you when ready
Exclusive hardcover from Bazillion Points ships Spring 2024 with limited MISERY OBSCURA lobby card!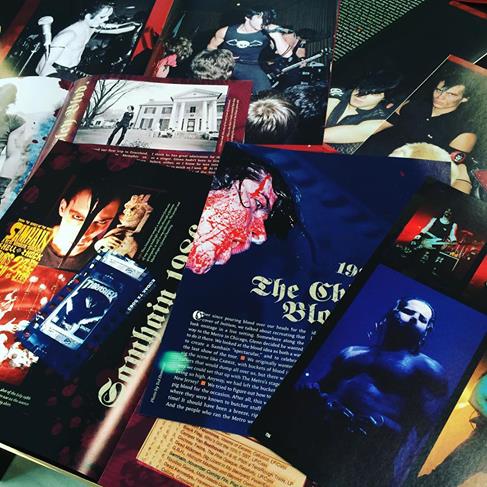 "Front row center for some of the most awesomely, brutally theatrical moments in punk rock history…insane amounts of fake blood, studded leather, and devil-locked hair."—Pitchfork
"A fascinating look-behind-the-curtain at some never-before seen photos from those bygone days"—Noisey/Vice
"Von's superb eye for composition and drama is undeniable, whether the band was posing or performing, and even in candids."—Dangerous Minds
"A veritable coffinload of spooktacular shots of punk rock's creepiest from the 'Fits to Danzig. Von's evil eye for imagery was already in full glare when Danzig picked him for the Misfits's legendary 'cave' shoot in upstate New York. Among other amazements, Misery Obscura includes the original contact sheets with Danzig's handwritten notes. As much a part of the punk rock historical record as Glen E. Friedman's seminal photobook, Fuck You Heroes, Von's photography is a lavish slab of horror rock history accompanied by an informative, unassuming, and frequently hilarious running commentary by the monster behind the lens."—Austin Chronicle
"You'll find this book to be all the necessary testimony to his tremendous eye"—Lyle Preslar, Minor Threat/Samhain
MISERY OBSCURA: The Photography of Eerie Von (1981–2009), by Eerie Von
• Forewords by Mike D'Antonio & Lyle Preslar
• ISBN 978-1-935950-19-6
• Hardcover; 160 beautiful full-color pages featuring hundreds of photos
• Dimensions: 8.75″ x 11.25″ (220mm x 285mm); 3 lb. (1.2 kg)
Bazillion Points has fiendishly "remixed and remastered" Eerie Von's classic early-2000s masterpiece, recalibrating color reproduction and rebuilding the text from scratch, then presenting the results in a thicker, sturdier hardcover body.
FROM THE DEEPEST DEPTHS OF PUNK ROCK's PRIMORDIAL WASTELANDS…through the stygian goth swamps of the 1980s, and on into the bloodstained arenas of 1990s heavy metal, Eerie Von witnessed it all. Beginning as the unofficial photographer for punk legends the Misfits and later taking charge of the bass guitar as a founding member of underground pioneers Samhain and metal gods Danzig, the evil eye of Eerie Von's camera captured the dark heart of rock's most vital bleeding edge during a time when rock and roll was not only dangerous, but downright menacing. Hundreds of "fly-on-the-wall" photos from the best seats in the house document everything from the Misfits' humble beginnings in Lodi, New Jersey, to the heights of Danzig's stadium-rock glory. Adding to this essential visual document of music history, Eerie's road stories of triumph and damnation bring to life an era which will never be seen again.
Animated by Eerie's enduring insight into how the Misfits, Samhain, and Danzig pulled off the impossible, his first volume includes never-before seen photos of Doyle Wolfgang von Frankenstein, Jerry Only, Misfits drummer Googy, Glenn Danzig, Rosemary's Babies, Samhain, Chuck Biscuits, John Christ, Rick Rubin, Metallica, White Zombie, Soundgarden, Tony Iommi, HR Giger, Marilyn Manson, Tom Araya, and many others.
"Misery Obscura has an amazing fly-on-the-wall feel that is mesmerizing but unequivocal. He puts me right back in the 1980s, in the same space where the Misfits and Samhain were. Looking at these pics is like having that Misfits backstage pass that I always wanted, for a band that I never got to see live. Eerie did a great job capturing those moments for the rest of us…a must for any fan of these bands, and will not disappoint!"—Kirk Hammett, Metallica
SKU:

MISERY
Categories: 1980s, 1990s, Hard Rock, Hardcore, Indie, Metal, Out Now, Photos, Punk, Thrash Metal
Tags: Danzig, DIY, Eerie Von, Glenn Danzig, Halloween, Hardcore Punk, Hollywood, Horror, Kirk Hammett, Lodi, Metallica, Misfits, Monsters, New Jersey, New York, November Coming Fire, Punk, Punk Rock, Samhain