CHOOSING DEATH: The Improbable History of Death Metal & Grindcore, by Albert Mudrian
CHOOSING DEATH: The Improbable History of Death Metal & Grindcore, by Albert Mudrian
"The most informed and comprehensive document on death metal"—Terrorizer
"The most accurate, compelling, and insightful history of extreme music"—Jeff Walker, Carcass
Add to Wishlist
Add to Compare
Mighty new expanded death-luxe softcover from Bazillion Points ships today!
Albert Mudrian's renowned underground metal chronicle gets 100 new pages, 50 new interviews, three new chapters and jaw-dropping throwback cover art from none other than Dan Seagrave.
"Albert Mudrian, our disciple of all that is heavy and extreme, definitively documents this period of blissful cacophony for all to behold. Play fast or die!"—Shane Embury, Napalm Death
"The most informed and comprehensive document on death metal…the ultimate overview of heavy metal's ugliest, most obnoxious, bastard offspring."—Terrorizer
"Mudrian, editor-in-chief of Decibel magazine, condenses painstaking and lengthy interviews to create this informative history of death metal, covering the genre's origin in small clubs and basements on two continents."—Publishers Weekly
"Choosing Death is like a time-travel machine, so damn honest and real. It is a rare heartfelt document of a special underground musical movement, a trip back to the formative years of my life. Dive in and enjoy the proper story of this passionate international scene."—Tomas Lindberg, At the Gates
"This is the Bible right here."—Scott Hull, Pig Destroyer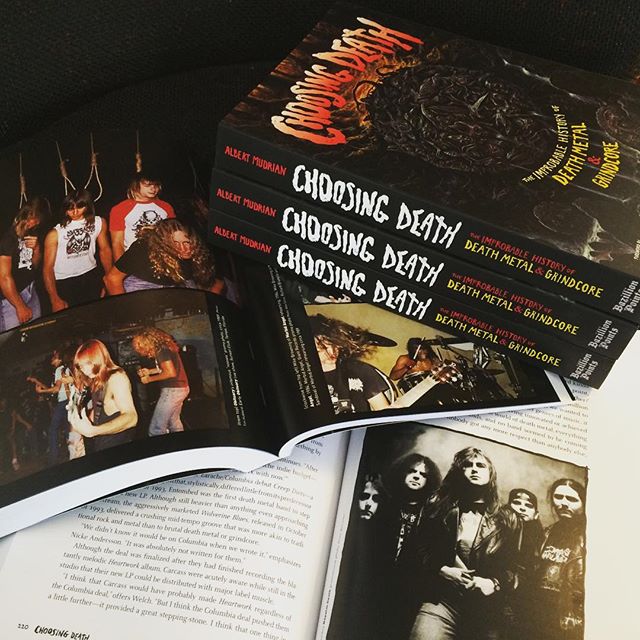 CHOOSING DEATH: The Improbable History of Death Metal & Grindcore, by Albert Mudrian
ISBN 978-1-935950-16-5
• Forewords by Scott Carlson & John Peel
• Death-luxe softcover edition; revised and expanded by Bazillion Points
• 384 heavily illustrated pages plus 16pp full-color insert
• Dimensions: 6.75″ x 9.5″ (170mm x 240mm); 2.75 lb. (1.2 kg)
Death-luxe edition features:
• New introduction by Albert Mudrian
• New foreword by Scott Carlson of Repulsion
• Revised and expanded new chapters
• Brutal new 16-page color section featuring raw, bloody early photos of Death, Repulsion, Obituary, Deicide, Morbid Angel, Thanatos, At the Gates, Napalm Death, Carcass, Dismember, Nihilist, and many others
• Expanded Essential Discography
• Complete reformat for this larger, heavier 130gsm paper edition
In 1986, the idea that death metal and grindcore would ever impact popular culture was unimaginable. Yet soon this barbaric amalgam of hardcore punk and heavy metal came to perpetually define the musical threshold of extremity. Initially circulated through a scattered tape-trading network of underground thrillseekers, bands rose from every corner of the globe and death metal and grindcore spread faster than a pandemic plague of undead flesheaters. By 1994, the genre's most prominent labels had sold well over a million death metal and grindcore albums each.
Choosing Death: The Improbable History of Death Metal & Grindcore examines the rise, fall, and resurrection of death metal and grindcore through the eyes and ringing ears of the artists, producers and label owners who propeled the movements. "I thought of death metal and grindcore as a return to a more extreme punk," writes the BBC's John Peel in his foreword. "This music was another step into outlaw territory beyond any aggressive music heard before."
Choosing Death is widely recognized as the definitive history of extreme music subgenres. For this revised and expanded edition, author Albert Mudrian (editor-in-chief of Decibel magazine) reveals there is life after death metal; the book now flaunts a whopping 100 additional pages in three new chapters; 50 additional interviews; a grisly 16-page color insert; and a new cover painting by legendary death metal artist Dan Seagrave (known for his classic Entombed and Morbid Angel album covers). This head-rushing history also features forewords by famed BBC DJ John Peel and Repulsion cofounder Scott Carlson.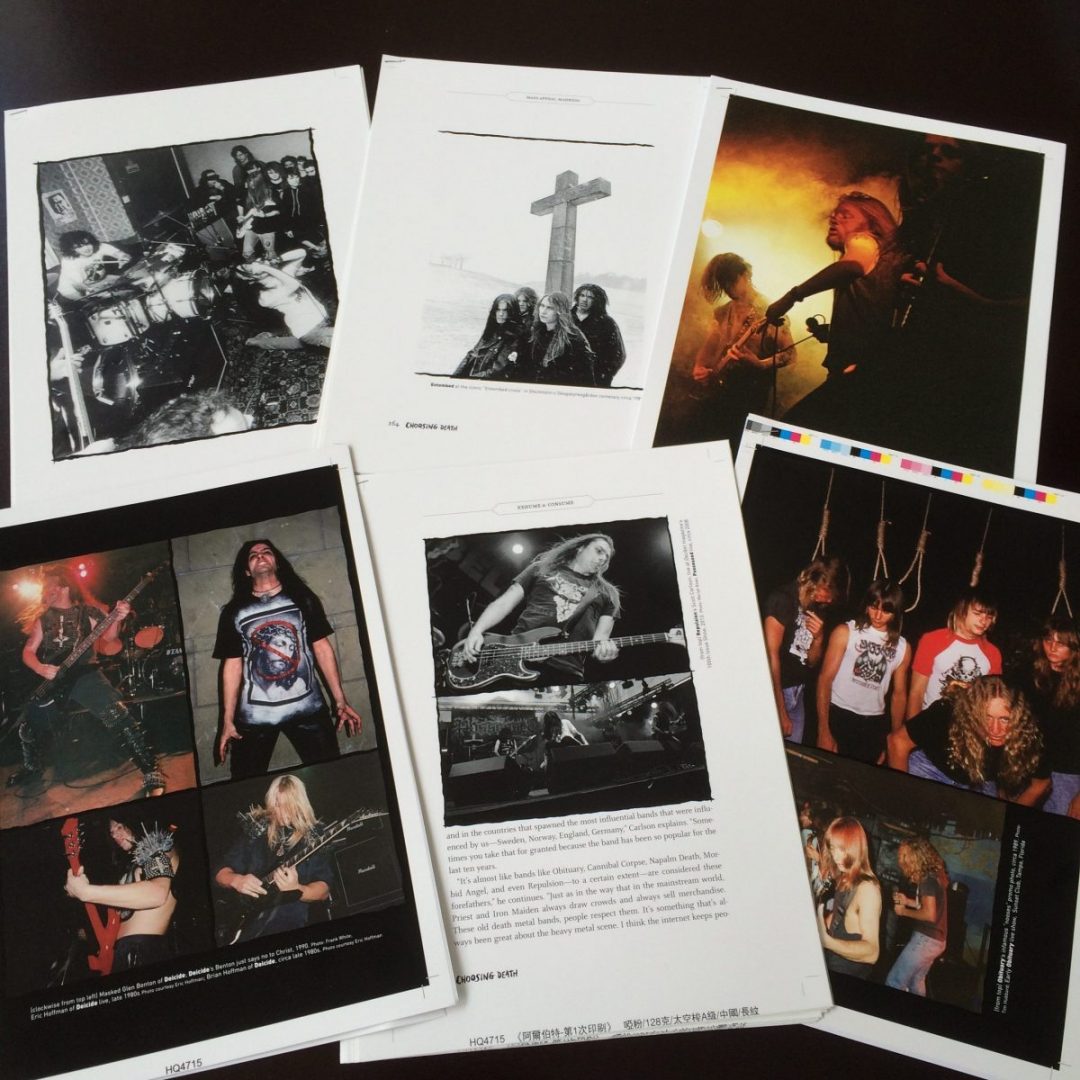 "Mudrian, editor-in-chief of Decibel magazine, condenses painstaking and lengthy interviews to create this informative history of death metal, covering the genre's origin in small clubs and basements on two continents; its spike in popularity and major-label interest circa 1992; the relative obscurity that followed; and the music's rebirth in recent years. What's astonishing is how normal so many of the featured players seem: behind the facade of Satan-worshipping, gore-flinging aggression, they're mostly a bunch of hardworking dudes who love the music and the outlet it provides for pent-up anger and energy."—Publishers Weekly
"By and large, Mudrian treats grindcore and death metal as interrelated approaches to the verbally gloomy, power-chording world of heavy metal that are leavened by a stiff dose of the punk do-it-yourself ethos and created by musicians who grew up on traditional heavy metal, thrash and speed metal, punk, industrial and hardcore."—Booklist
"Extremely well researched and compiled with a true passion, Choosing Death is the testament of an era—an underground bible."—Lee Dorrian, Napalm Death/Cathedral
"For all of you deathsters who spend your hard-earned money on all those festivals, the bigger Choosing Death will now be released as a paperback. The book is easy to carry in your luggage wherever you go; to read while waiting on your plane, train, or automobile; when having a fight with your man or woman; or to use as your guide while finishing your study at Harvard. Affordable, and a must to everyone who calls him- or herself a true metalhead. Recommended to read with at least two six-packs in the fridge"—Martin van Drunen, Asphyx
"In this day and age Mr. Mudrian has taken up the most brave and selfless task of attempting to write the most accurate, compelling, and insightful history of extreme music. Some might say this is breathtaking in his belief that the audience of said music is actually literate, articulate, and educated enough to read it. So, on that basis, he's also included some pictures."—Jeff Walker, Carcass
"The first book I've read since high school."—Richard Christy, Death
SKU:

CHOOZ
Categories: 1980s, 1990s, 2000s, Black Metal, Death Metal, Grindcore, Metal, Out Now, Scandinavia
Tags: At the Gates, Carcass, Celtic Frost, Chris Reifert, Chuck Schuldiner, Death, Deicide, Entombed, Florida, Japan, John Peel, Los Angeles, Morbid Angel, Napalm Death, Obituary, Opeth, Repulsion, Scott Carlson, Sweden, Tomas Lindberg