*** Second preorder block of books will ship March 15 with ltd. FREE "Fight Back" heart tattoo metal badge. ***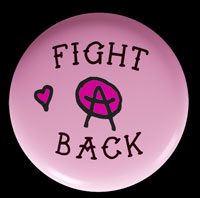 "The old punk rock world was full of wanna-be contenders and straight up pretenders, and then there were those that you knew would rise above. Nancy was one of the latter—she was there and solid and supportive, and over the years I've watched her take the grit of that old world and use it as a hammer to fashion this present place into a more livable space. I'm proud to say I know her." —Jack Grisham, T.S.O.L.
"Her true life story is so similar to my own, where we re-live and discover in the rough decay of the 1970s city life, the color and the life of the underground gay and punk scenes.  The struggle, sounds, smells and color come alive. I feel the tension as a woman navigating to find her voice." —Cynthia Connolly, Banned in DC
"I have known Nancy for most of my life as a great friend and as a contributor and caregiver to all who know her socially or personally. I photographed several of the exact moments described in this book but never once witnessed a punk show in Philly, so I enjoyed Nancy's insight." —Glen E. Friedman, My Rules
"In this book, Nancy paints a gritty portrait of an underground music scene, captures a highly underrated but extremely vital part of rock 'n' roll, and accurately documents a very important time in my life." —Dicky Barrett, The Mighty Mighty Bosstones
From disenchanted Catholic schoolgirl and glam maniac to instigator on the 1980s hardcore punk scene, Nancy Barile discovered freedom at a time when punk music was new and dangerous. She made her place behind the boards and right in the front row as insurgents such as SSD, Minor Threat, Bad Brains, Dead Kennedys and Black Flag wrote new rules and made history. She survived punk riots and urban decay, ran the streets with outcasts, and ultimately found true love as she fought for fairness and found her purpose.
I'M NOT HOLDING YOUR COAT: My Bruises-and-All Memoir of Punk Rock Rebellion, by Nancy Barile
ISBN 978-1-935950-20-2
• Softcover edition
• 192 heavily illustrated pages
• Dimensions: 6″ x 9″ (150mm x 225mm); 2 lb. (.8 kg)
Table of Contents:
A conversation with Ian MacKaye
Introduction
1. Old School
2. Intro to Jukebox
3. Surviving High School
4. Working Hard in Harrisburg
5. Philly Love
6. Savage Pink
7. Punking It Up in the Big City
8. Black Flag, S.O.A., & the Kensington Brawl
9. Punk Fest and the Anti-Pasti Drama
10. Bad Brains, Black Flag, and the Big Takeover
11. Bombed at a Dead Kennedys Show
12. I Meet My Match
13. Welcome to Boston: The KKK and My Baby Far Away
14. A Philly Punk Moves to Boston
15. I'm Not Holding Your Coat
16. The Ghetto Riders & a Hit-and-Run: a Night at Buff Hall
Afterword
Acknowledgments
Playlist: Can't Wait 'til It's Party Time
About the Author